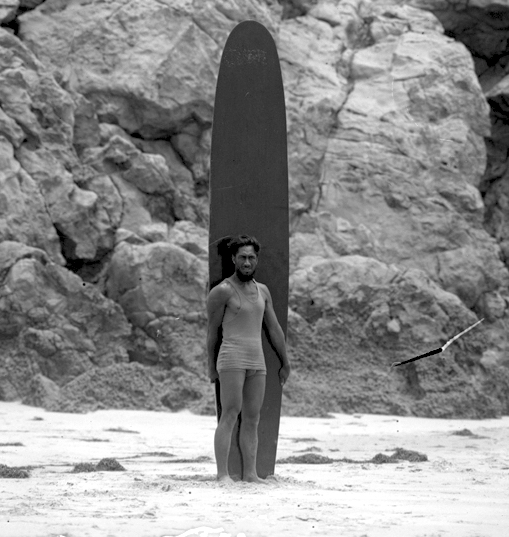 Duke Kahanamoku, who is widely regarded as the father of modern surfing, lived between 1890 and 1968. His unique skills enabled him to gain popularity in the world of sports, where he is well known as a former Olympic champion.
Early Life
Being the first born in a family of six, he was born at a time when the Duke of Edinburgh had visited Hawaii, and the newborn was named in his honor. Kahanamoku grew up in the royal palace despite the fact that his father was a police officer. His grandfather was a Hawaiian high chief, so Duke enjoyed the privileges of the royal palace.
Duke was taught the traditional Hawaiian way of swimming by his uncle and father at a tender age, and he spent most of his time at the beach. Being a fearless swimmer and a quick learner, he was often thrown over the side of a canoe into the surf board. Duke rarely fought, he never drank or smoked, but often trained. To top it all, his tall physique – not to mention his surfing skills- saw him become a leader and a role model among his peers
The "Human Fish"
Kahanamoku was a skilled swimmer and surfer who gained popularity because of his unique swimming style. He was unbeatable at long distance swimming and surfing. While in water
, his large feet and hands helped him get a maximum push for every stroke that he made.
Before hitting stardom, Duke participated in a 100-yard sprint at the beach of Diamond Head and impressed Rawlins, who became his first coach. The young swimmer was advised to join the Hawaiian Amateur Athletic Union of swimming and diving championship. He set a world record of completing a 100-yard race in his first race. Later on, his friends contributed some money so that he would go to the United States to compete in the Olympic trials, in 1912. His new fans nicknamed him the Swimming Duke, while others called him "the Human Fish" when he won the 200, 100 and 50-yard freestyle races, where he made a record. Consequently, he was included in the US Olympic team.
Olympic Champion
In 1912, Kahanamoku won his first medal at the Olympic games held in Stockholm, Sweden, representing the United States. He was only 21 when he set two world records in the a 100-meter freestyle races. He also bagged a silver medal in the 200 meter race. His talent was recognized by King Gustaf, who awarded him Olympic wreaths and medals on the Royal Victory Stand.