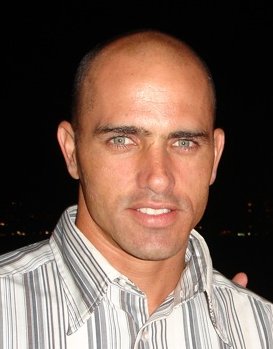 Kelly Slater dominated the surfing sport for quite some time during his peak. This was because no one had a talent as good has his. However, tables turned when Andy Irons took his surfing profession to another level. Iron became unbeatable in the sport and took most of the championship titles, while Kelly was on sabbatical. Between 2003 and 2005, following his resumption, Kelly was unable to win back his world-champion status as this was the period when Irons' grip on the title was at its strongest.
At the age of 31, the late Andy Irons, who hailed from Kauai, Hawaii, had proved successful in his surfing career. So far, he had taken home three world titles, besides the 19 wins in the ASP elite events. He got sponsorships from companies like Von Zipper, Billabong, Kustom Footwear, Monster Energy Drinks, Dakine Accessories and Nixon Watches.
On the other hand, Kelly is still a living legend. Born and raised in Florida's Cocoa Beach town, he had bagged many titles and wins at age 38, thanks to his exemplary surfing skills. He won the world titles 9 times and also won the ASP elite events 41 times. He was sponsored by FCS Fins, Komunity Project Accessories, Channel Island Surfboards and Quicksilver.
Many people have asked where the rivalry between Kelly and Andy rivalry came from. Well, when Slater was bagging world titles, Irons, on the other hand, was climbing his success ladder in his teenage in the
junior circuit. In 1999, Kelly took a four-year break, and this period gave Irons a perfect opportunity to start winning titles. Therefore, Irons won the world championship title for the first time in 2002.
Irons' win was a wake-up call for Kelly. When Kelly came out of the break in 2003, he was thirsty for wins. The two surfers got dramatic since Irons had the title and was looking for more wins and titles, whereas Kelly was not ready to be out-smarted in the sport, given his history. Their fierce rivalry caused the sport to be so interesting, and their fans were curious and fascinated.
For two years, since 2003, Irons was in the limelight. He retained his winning spirit and Slater was unable to outdo him in the sport. However, things changed when Kelly Slater won the Billabong Pro Jeffreys Bay competition in 2005. With only 35 seconds left, Kelly defeated Irons 16.83 to 16.56. This was Slater's turning point once more in surfing as since he went on to bag the world title the following year.
After winning the 2006 title, there rivalry faded. While Kelly was proving to his fans that he was still a legend in his profession, Irons was losing his desire and strength to compete. Even though the rivalry between the two did not last for long, it was a spectacle that had never been seen before.